Baffin Island Expedition of 1978
TO SAM FORD FIORD




Personnel

The North has got him….Yukonism
Sitting in my office looking out over Puget Sound on a cold grey January afternoon I watch the snow falling outside and my mind once again drifts north, to the arctic. I am not sure why the arctic plays on my mind during quiet times at home. Perhaps it's the intense contrast in environments that keeps me fascinated; perhaps the stark beauty of the barren lands, ice floes and remote mountain ranges; perhaps the unique challenge and total commitment the arctic demands. Most important, I think, is the escape from everyday life; a comfortable house, a comfortable car, comfortable people and predictable days. Whatever the cause, the arctic has called to me for the thirty years. The North has got me. Come with me on the Baffin Island Expedition.


From
"THE CALL OF THE WILD"
by Robert Service


They have cradled you in custom, they have
primed you with their preaching,
They have soaked you in convention through
and through;
They have put you in a showcase; you're a
 credit to their teaching —-
But can't you hear the Wild? — it's calling
you.
Let us probe the silent places, let us seek what
luck betide us;
Let us journey to a lonely land I know.
There's a whisper on the night-wind, there's
a star agleam to guide us,
And the Wild is calling, calling ….let us
go.




The Shooting of Dan McGrew


 A bunch of the boys were whooping it up in the
Malamute saloon;
The kid that handles the music-box was hitting
a jag-time tune;
Back of the bar, in a solo game, sat Dangerous
Dan McGrew,
And watching his luck was his light-o-love, the
lady that's known as Lou.




It had been a year since my climbing partner Al Errington and I returned home from our first arctic trip to King William Island. During that trip we man hauled a sled around the remote southern coastline of that isolated, desolate island. We learned a lot about arctic and cold weather travel; much of it the hard way by trial and error. Our teacher had been the harsh arctic environment; with temperatures of fifty below zero and wind chill factors of more than one hundred below. We learned about sled construction and the frustrating and grueling work involved in man hauling our food and camping gear across the frozen Arctic Ocean. As Robert Service would say, "it wasn't much fun", but it challenged us in an engaging primal way. If we had learned so much, why were we at it again? We found the arctic to be a diverse and magical place, full of starkly beautiful scenery, and a place of physical and mental challenge to meet and overcome the obstacles to unlocking its secrets. This time, we decided to explore the rugged fiords of the north coast of Baffin Island. Baffin Island encompasses some of the most scenic mountain ranges in the world with many fiords filled with granite monoliths rising up over six thousand feet out of the water and crowned with hanging glaciers. We chose Sam Ford Fiord as our objective. According to our research, few climbers had ever challenged the daunting peaks in this area and we would be among the first outsiders to explore these mountains.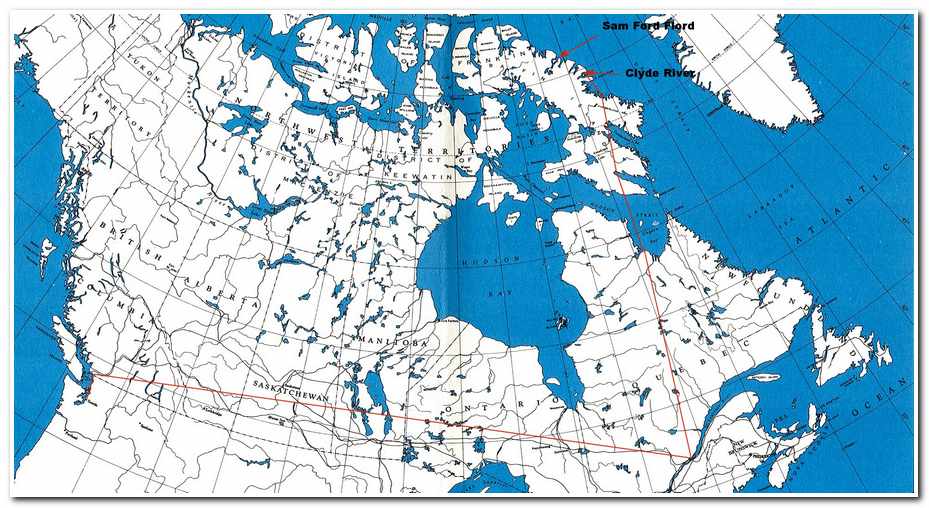 For this expedition Al and I recruited several of our friends from Mountain Rescue groups in Washington State. Jim Shed, a research physicist at the University of Washington. Martin Waller, an engineer at Boeing Aircraft. Brad Albro, a business owner from Bremerton. Lynn Buchanan, a trucking company owner from Yakima. We had all climbed together from time to time and each expedition member had a long resume of climbing and rescue experience. While Al and I were the only ones with actual arctic experience, the rest of the team exuded enthusiasm for the project and could be counted on in a pinch to do the right thing.
April 11, 1978. The big day had arrived. The team had spent the last several months planning the details of the expedition including food menus, climbing equipment lists, and travel arrangements. In addition, Al designed and built the sled we would use to transport our supplies across the sea ice of Sam Ford Fiord, an inlet off Baffin Bay, on the north coast of Baffin Island. We packed our food in five-gallon press lid cans, each with one day of rations for the six expedition members in each can. We then marked each can with a code, which corresponded to a master list of menus so that we could pick varied menus for each day as we traveled.


We disassembled the sled and packed it in a wooden crate along with five hundred feet of climbing rope and an assortment of ice screws and other climbing gear. In addition to the group food and equipment each member of the expedition brought his own personal gear, much of it specially designed and donated by the Eddie Bauer Company in Seattle, such as sleeping bags, parkas boots, ice axes, books to read. All in all we had a total of about 800 pounds of food and equipment that had to travel with us to the mountains.


But now the months of planning and preparation were over and we were ready to leave for Baffin Island. Lynn drove over from Yakima the night before and stayed at my house. We spent the evening reliving past climbing trips and anticipated the new challenges and adventures that awaited us. The rest of the team arrived early the next morning and we made a final inspection of our food and equipment, double checking inventory lists to ensure nothing was left out. We were away by nine and drove north to the Canadian border crossing at Blaine, Washington. We crossed the border without incident and arrived at the Vancouver airport by noon.


The first leg of our journey was a flight to Montreal. We made stops in Calgary and Toronto, so it was after midnight when we reached Montreal. It had been a long day and we gratefully sacked out at a cheap motel near the airport and got some welcome sleep.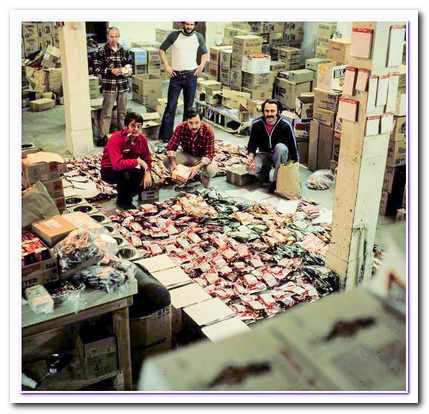 A "packing party", at Brad's warehouse in Bremerton, Washington. Note the freeze dried food arranged in rows, left to right. We designed and packed four different daily menus. Each row represents a separate daily food supply for six people which were then numbered one through four.
Each day of rations was then packed into a numbered five gallon press-lid can, for identification, shipping and transport into the field. We used this system so that meals would be varied day to day. Note the sled Al built for the expedition in the background.













Some of the expedition gear at the Vancouver airport being watched over by Lynn, Brad and Al prior to our departure for Montreal. The sled and food supplies had already been delivered to the air cargo area for pre-loading. While we had concerns about being separated from some of our equipment everything went smoothly with people and equipment arriving together in Montreal as planned. April 12, 1978.




We dragged ourselves from bed at seven a.m., quickly showered and went back out to the airport to check in for our flight north to Fort Chimo (now Kuujjuaq) and Frobisher Bay (now Iqualuit). At the airport we met Frank Kirkman, our contact with Canadian Pacific Airlines. Frank was a big help in getting us on board our flight with hundreds of pounds of extra checked items and an expansive list of carry-ons.  He also gave us a list of the three best bars in Frobisher Bay. The flight north to Fort Chimo (58.06N 68.25W) was uneventful and we arrived at about noon. The temperature had dropped from the mid fifties at Vancouver to a cool 26F. We refueled and continued north to Frobisher Bay (63.45N 68.30W), arriving at two that afternoon. Stepping off the plane we were greeted by the -17F temperature and I immediately recalled the intensity of the cold Al and I had endured the previous year on King William Island and began to wonder if perhaps we should have planned this trip for May or June instead of mid April. We were met, at the airport, by Andrew Terio, the stereotypical, big bearded French Canadian. Andrew was very outgoing and friendly and insisted on taking us to his house and showing us around town. He had managed to find enough old mattresses around town for each of us, so everyone had the comfort of a real bed for one more night. A little after three that afternoon we took Andrew's truck and went back to the airport to pick up our gear to resort and repack one last time.

In addition we added several items to our supply list. We bought twelve 1-gallon cans of naphtha (white gas) for our stoves and lanterns and 17 pounds of butter.   Seventeen pounds of butter may seem like lot but Al and I had learned on our expedition to King William Island in 1977 that with the cold weather and hard work of sled travel each expedition member would burn 3000 to 5000 calories each day. Since butter is a high source of calories; much of the food menu would be augmented with butter. About six p.m. we had dinner and discussed the Harp seal hunt that had become such a "cause celeb" for various animal rights groups.
While we were in the midst of this discussion Tom Chowns a game officer for the Fish and Game Department came over and talked about polar bear danger in the Sam Ford Fiord area. Tom warned that there would be many bears in the fiords hunting for baby seals during the next few weeks. We had counted on the possibility of encountering bears in Sam Ford Fiord and had packed a shotgun loaded with heavy load slugs and a heavy caliber rife for protection. Tom insisted that we also take six "thunder flashes" (loud cherry bomb like devices used to scare away bears) with us as an extra precaution. He estimated that it would take us one day to travel from Clyde River to Sam Ford Fiord by snowmobile and that the Inuit would charge about $50-$85/day for each of the three snowmobiles and komatiks (sleds pulled by dogs or snowmobile) we would need to haul all the expedition personnel and our gear to our proposed base camp in Sam Ford Fiord. It was a beautiful clear night with a quarter moon and thousands of stars in the night sky. Tomorrow we would head for Clyde River (now Kangigtugaapik or "nice little inlet" in Inuktitut), a small hamlet on the north central coast of Baffin Island. Somehow the spell of the Arctic was beginning to take hold, working its magic with the group. "A high arctic high" enveloped each of us with our own vision of what awaited.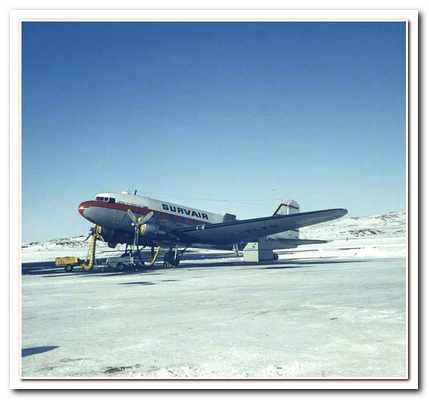 "Empress of Pangnirtung" a Survair DC-3 cargo plane sits on the tarmac at Fort Chimo. This is the plane the expedition would use to complete our flight into Clyde River. While these venerable old warriors were reliable it was still a little unsettling at first to entrust everything to a forty-some odd year old plane flying in the harsh conditions of the Arctic spring. Note how the engines are sealed shut with wooden inserts and mobile heaters are connected to each engine to keep the oil from becoming so viscous that the engines wouldn't start.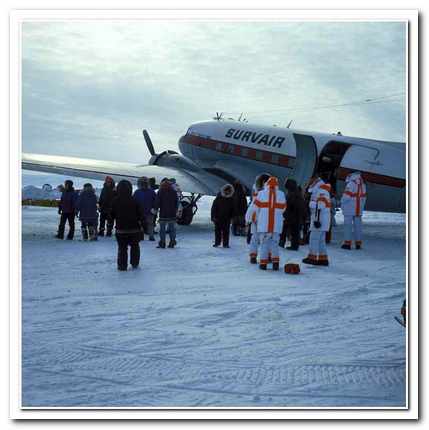 "Empress of Pangnirtung" on the tarmac at Broughton Island on the north coast of Baffin Island. Our gear is on board and we are about to leave for the final leg of our journey into Clyde River. However, before we leave we are spending a few minutes meeting and exchanging arctic tales with the locals.






April 13, 1978.The next morning dawned clear and cold, -4F. After breakfast we loaded our gear in Andrew's truck and headed back out to the airport. We transferred everything to a 1940s vintage DC-3, named the "Empress of Pangnirtung" which would fly on ahead over the island, and meet us at Broughton Island, on the north coast. The team boarded a Twin Otter and flew to Pangnirtung, a small village that served as the jumping off point for climbers going into the incredible Pangnirtung Pass area. The flight from "Pang" over "Pang Pass" to Broughton Island was over one of the most scenic mountain ranges in the world. We flew past the huge granite faces of Mts. Asgard, Thor and Turnweather and dozens of other unnamed and seemingly unclimbable peaks.
Once at Broughton Island we caught up with our gear and transferred to the DC-3 for our flight to Clyde Rive (70 30N 68 30W). Since the plane was set up for hauling cargo, there were only small "jump" seats available. Most of us stood up or sat on the cargo and chatted with the pilots.
At two that afternoon we reached Clyde River. The plane was met by twenty to thirty locals who were either meeting friends or relatives or who were expecting cargo. We were offered a ride into town, and so with our gear and three of us in one pick-up truck and rest in another we headed into the village. Our first stop was the RCMP post where we checked in with the resident constable, Tommy Enneraq. Tommy welcomed us and said that the tribal council wanted to meet with us before we left to the Sam Ford Fiord area. Since we would be climbing in the village's hunting grounds they wanted to be sure we would respect the land. Tommy thought a meeting could be arranged for the following afternoon and that we should be able to leave after the meeting or the next day.
We spent the rest of the day exploring around town and locating Inuit hunters who might help arrange transportation to our base camp. After some asking around we were directed to Abe, Elija and Joanna who were willing to hire out their snowmobiles and komatiks (large freight sleds). After some negotiating we settled on a price of $560 for the round trip to and from our base camp. They too warned us that there were many bears with cubs recently seen at Sam Ford Fiord and to keep a watchful eye.
Since we had no place to stay Tommy let us set up housekeeping at the RCMP building. Our living area included sofa, kitchen, bathroom, and the local jail cell. We spent the rest of the afternoon and evening reading, relaxing and generally goofing off. Overall, even though we were frustrated by the delay we spent another unexpectedly comfortable night in the north.
April 14, 1978. We spent the morning waiting for the council to meet. More reading and walks around town. Brad surprised everyone by digging around in his gear and coming up with a Cookie Monster needle point project.
About noon Abe came by and told us the meeting with the council would be at 1:00 p.m. He also offered us a slab of raw caribou meat to take with us. Caribou is a ubiquitous food source among the Inuit. It is a convenient high protein, high calorie meal. A large piece of raw caribou and a hunting knife or uloo is often found in the corner of Inuit kitchen/living rooms. Family and guests are free cut off a slice or two whenever they feel hungry. In the arctic meal times are not usually at a fixed time but rather varied and most Inuit eat whenever they feel hungry without regard to the time of day.